After more years of development, Metacnbeauty (Running By Guangzhou Dot Dot Star River E-commerce.Co.Ltd) has developed into a global high-end intelligent factory, covering an area of more than 100,000 square meters, with a 100,000-level GMP clean production workshop, equipped with "intelligent system + intelligent equipment + intelligent manufacturing" in one The advanced and advanced technology demonstration cosmetics production base, establish joint research and development and strategic partnership with the international TOP10 raw material giants, create a 1+1+3+N development model, and strive to empower brand customers and make the world fall in love with China's smart manufacturing!
Guangzhou Dot Dot Star River Headquarters.
Guangzhou Dot Dot Star River Innovation R&D Center (open lab).
Smart manufacturing factories (Nuse, Chongsheng, Zhuobi, Yilong, Jingmei).
Only when excellent talents enter Metacnbeauty, Metacnbeauty can become an excellent enterprise. Metacnbeauty pays close attention to the construction of talent team, and at the same time hires senior managers with high salaries to improve the level of talent structure. The company's strict training mechanism continuously conducts skills training and knowledge learning guidance for internal employees, so that employees' knowledge and skills are comprehensively improved.
We're a highly collaborative and supportive team, coming together on every project to ensure our clients get the very best result.
Build the best product that creates the most value for our customers, use business to inspire and implement environmentally friendly solutions.
We strive to go above and beyond for our clients no matter the challenge. We aim to deliver our very best work every single day across our services.
"Metacnbeauty has an amazing team of hard working professionals. It has been a pleasure to meet them."
The company has established a research and development center, with "scientific and technological innovation, safety and efficiency, excellent quality" as the research and development concept, bringing together the elite engineers in the fields of life science, skin science, surface science, etc. from China, Japan, France and Korea, and cooperates with professional institutions and well-known universities at home and abroad. Maintain close collaboration and communication.
Successfully launched many skin care products, make-up products, and personal care products.
Has the latest level of chemical and biochemical research and development laboratories equipped with advanced equipment,
Including: ICP-OES (Inductively Coupled Isoplasma Optical Emission Spectroscopy), HPLC and GC-MSD
In-house skin contact testing by qualified and experienced assessors
Science and technology create the future, Metacnbeauty R&D center is market-oriented, aiming to provide customers with "high-quality, safe, environmentally friendly and fashionable" products, continuously increasing R&D investment and establishing a strong western database. The R&D team is composed of domestic and foreign formulation engineers in various professional fields of cosmetics. Their expertise in personal care and biochemical industries enables us to provide customers with innovative, market-appropriate products and concepts.
The three major production bases, covering a total area of about 100,000 square meters, are equipped with 68 automatic production lines, and a 100,000-level dust-free standardized production workshop built in accordance with international GMPC standards, successfully introduced domestic and foreign advanced production equipment, and passed international GMPC and ISO22716 quality management system certification.
The modern production base with 3 production plants covers the ingredient workshop, filling workshop, makeup workshop, perfume workshop and assembly workshop. With 400 front-line production staff, using semi-automatic and fully automatic equipment, we are committed to producing high-quality products.
The batching workshop has a daily output of about 50 tons.
The filling workshop has a daily output of about 500,000 pieces.
In the make-up workshop, the daily output of lipstick products is about 40,000 pieces, and the daily output of make-up products is about 80,000 pieces.
In the perfume workshop, the daily output of ingredients is about 9 tons, and the daily output of filling is about 60,000 pieces.
The assembly workshop has a daily output of about 80,000 sets.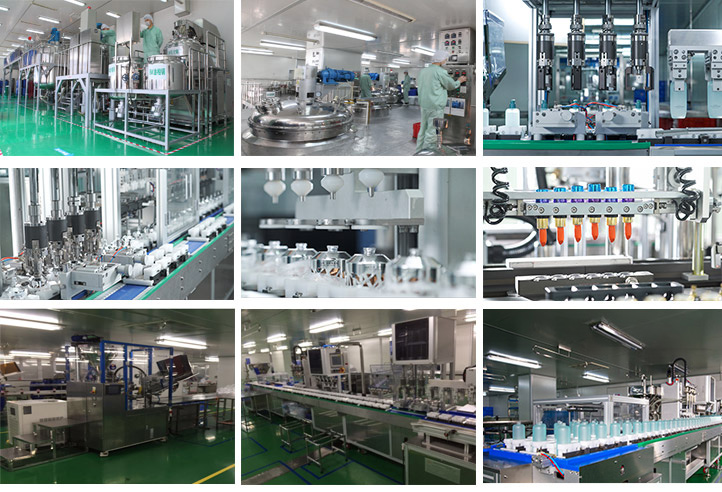 Large-scale logistics and storage base
Top R & D team Strong production strength
Guangzhou Dot Dot Star River innovative Product R&D Center + Chongsheng, Zhuobi, Nuse three production bases, equipped with 100,000-level dust-free purification workshops according to international GMPC standards; Introduced advanced production equipment from Germany and the United Kingdom, 90+ production lines, with an annual output of more than 100,000+ tons.
Flexible and diverse cooperation models
Always adhere to the tenet of "customer satisfaction" to meet the individual needs of customers. Provide professionals in product, design, formulation, production, marketing, logistics, etc., and provide value-added services.
Advanced scientific research technology
Looking at international fashion trends, based on cutting-edge technology and advanced equipment, gather high-strength scientific research talents, select global high-quality raw materials, and provide a strong guarantee for the development of high-quality and efficient products.
Strict quality management system
It has passed the certification and blessing of authoritative systems at home and abroad. Ensure compliance with foreign industry standards such as GMPC, ISO, FDA, etc. Strict quality assurance from the whole process of formula, raw materials, packaging materials, production, storage and transportation.
Innovative product power
Conform to market changes, accurately grasp consumption trends, deeply plough the market, and gain insight into expectations, take product innovation and research and development as the component "source power", rely on strong research and development strength, and constantly innovate, create highly differentiated product capabilities, and walk in the forefront of trends.
Factory production overview
Planning/Packaging Design/Formula R&D/Production/Logistics/After-sale Service
Guangzhou Dot Dot Star River is located in the beautiful Yangcheng of Guangzhou. It has three production bases, Nuse, Chongsheng and Zhuobi, with a total area of more than 100,000 square meters. It is equipped with 90+ automated production lines, and builds dust standardized production workshops in accordance with international GMPC standards. It has successfully introduced domestic Foreign advanced production equipment, and passed the international GMPC and ISO22716 quality management system certification. Guangzhou Dot Dot Star River relies on the intelligent digital management system, international standardized production system and high-precision research and development strength, and supports the database of innovative products, patent design, intelligent production system, intelligent supply chain, and global trends to provide personalized and exclusive customization. It is a high-quality OEM processing enterprise of all categories of cosmetics, skin care products, toiletries, packaging materials, etc. in Guangzhou. It has the production qualifications of multiple units such as skin care, make-up, cleaning and packaging materials, and can provide customers with one stop. demand for various products. We are committed to producing real green cosmetics!